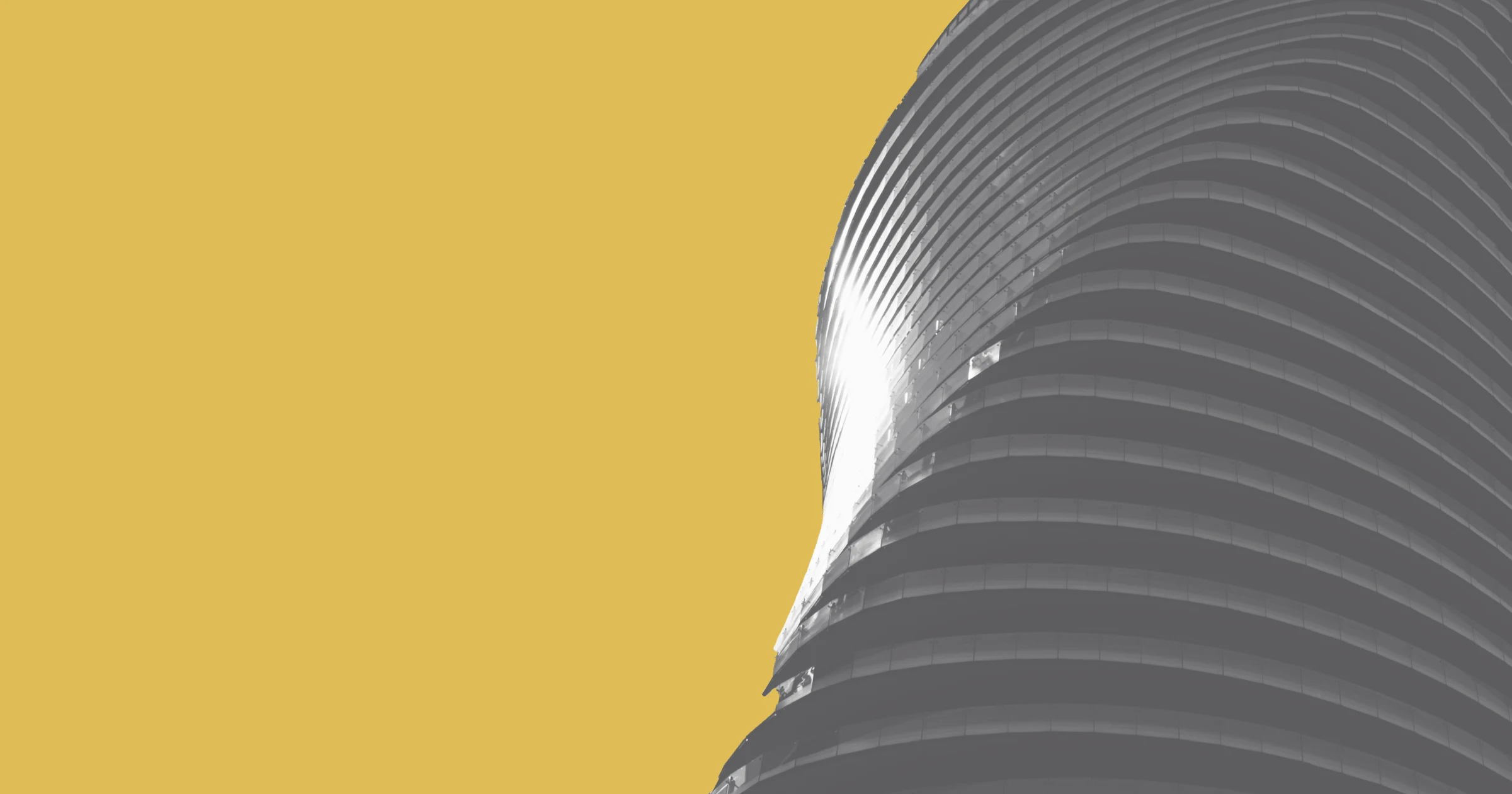 At the end of 2015, Starbucks made the decision to jump into the market of delivery services. This was seen as a risky corporate endeavor, given the specifics of the company's product line. A majority of the coffee chain's products are made to be served at an above average temperature, and ensuring the warmth of a beverage or a breakfast sandwich – from barista, to car, to customer – would be no easy task. As such, Starbucks had to create a way to pilot this idea without completely missing the mark. That is when the Green Apron came into play.
Green Apron Service
The Green Apron is the first delivery system that Starbuck launched. This company only exists in New York, which is located in The Empire State Building. The reasoning behind the confined delivery service is letting Starbucks test out the waters. Although the building has over 12,000 employees it isn't close to the millions of people that would be taking advantage of this service if they were to open up nationwide.
Orders that are placed are made right then and there in the buildings kitchen which is isolated from all other orders placed either by tourists or products other than Starbucks'. This gives the station an edge and allows the employees to focus only on the customers that have placed orders to get their delicious beverages to them on a timely manner. Time manner is the second most important thing about this operation following the obvious first obligation of perfecting the order and delivering it to the correct customer.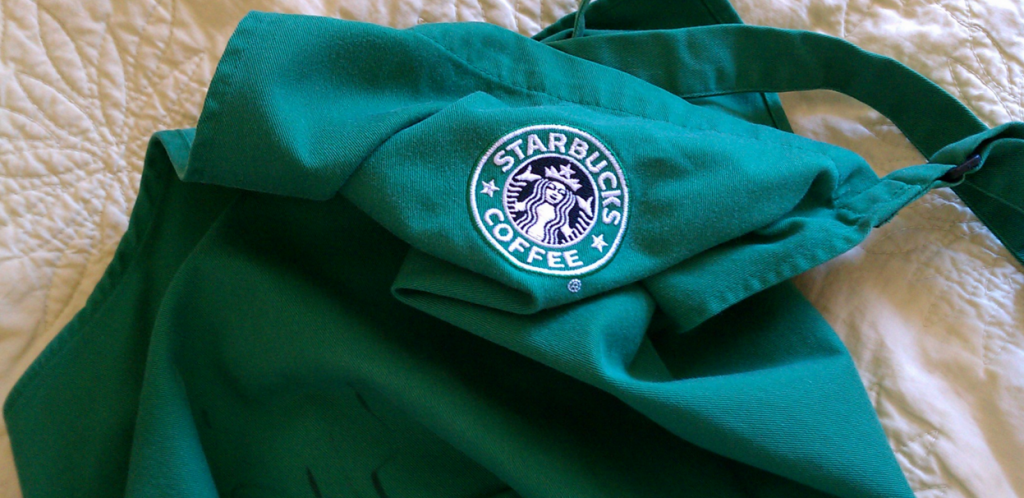 In order to place your order, you must create an account. Whether you choose to order from a desktop, tablet, or mobile device you as a customer are now responsible for creating a user name, password, date of birth, postal code and email address. By giving the site all this information it then will allows you to start your ordering process.
By gathering all this information about yourself, Starbucks now has a more personalized relationship with you that it hadn't before. You gave them your date of birth, right? So now on your birthday, you will get a notification on your phone with a free birthday reward! Although you [were forced] to give your email in order to create an account, you are able to choose whether or not you would like to receive Starbuck rewards, news, and promotions by simply checking a box at the bottom of the page.
Moving forward, Starbucks hopes to open Green Apron locations in other buildings around the NYC area once they have perfected the mobile game in the Empire State Building.
Mobile
Starbucks' mobility strategy is one for the books. It now has an app for Mobile Order and Pay that can be downloaded with both an iOS run iPhone device or an Android device.  This app allows you to order as if you were physically at the counter ordering from a barista. The idea behind creating an app for this is simple, faster is better.
With more than 7 Million active customers using the mobile payment system, Starbucks has transformed the way on-the-go coffee is selling today. In this industry, everyone that's trying to purchase a coffee is usually in a rush or in need of a caffeine boost; in both cases you can't stand to waste time!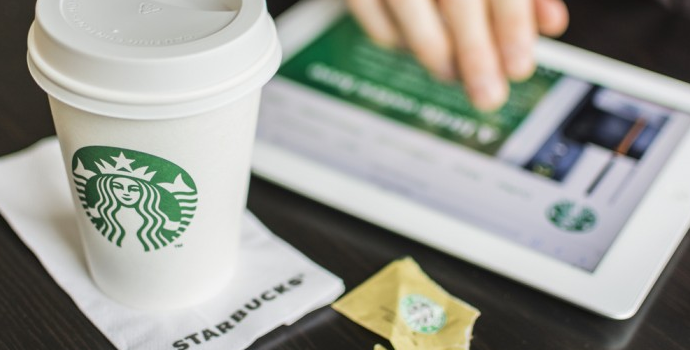 This app allows you to order and pay before you arrive at the designated location which you will have selected on your way.
Other things that this app allows:
-Check out your balance: add funds to your Starbucks card
-Send gift cards to other app owners
-Check out what songs are playing at stores
-Use Apple Watch to pay and track your rewards
Click here to watch a live video on the Mobile Order & Pay app by Starbucks.
Starbuck's mobile app has increased the positive affect of customer satisfaction as well as customer convenience. By Q3 in year 2015, Starbucks Mobile Order & Pay expanded to over 4,000 U.S. company-operated stores; full deployment to all U.S. company-operated stores by holiday. Which according to Howard Schultz, chairman and CEO, "stands as among the strongest and most remarkable quarters in our over 23 years as a public company." (Source: Investor.starbucks.com)
Social Media Engagement
In order to become more connected with its customers on a personal level, Starbucks entered into the digital platforms which quickly had an impactful success. With an increasing number of followers a day on social media sites, Starbucks has bulldozed over their biggest competitor [Dunkin Donuts]. To give you a quick idea of what I am talking about here are some examples:
Instagram Page
Starbucks: 8,100,000 Follower/ 1,870 Following
Dunkin Donuts: 761,000 Followers/ 6,828 Following
---
 Facebook Pages
StarBucks: People Talking About This: 225,326
People Checked In Here: 28,289,751 & Total Page Likes: 36,144,194

Dunkin Donuts: People Talking About This: 11,889
People Checked In Here: 1,636,679 & Total Page Likes: 13,396,994

This clear gap can tell a consumer how Starbucks dominates the coffee social media industry. But the real test isn't who has the most followers [although it doesn't hurt for publicity] but whether or not those followers are turning their interest into sales. Specifically talking now-a-days, eCommerce sales.
---
Postmates Partnership
"Local, on-demand delivery is the future of commerce and we're excited to work with the incredible team at Starbucks to make this service available," says Bastian Lehmann, Postmates Co-founder and Chief Executive Officer.
Together, Starbucks and Postmates are trying to give an intelligent example of what the future is going to look like for the most convenient eCommerce delivery services in cities. This on-demand delivery service originated in New York, in the Empire State Building, but has recently branched out to Seattle [the original home of Starbucks], South Lake Union, Capitol Hill, Madison Park and the Sodo area in late 2015. Postmates can come to you, wherever that may be, at your house, to your office, or even to your child's dance rehearsal when you need that extra jolt to get through the day.
If you are located somewhere that Starbucks doesn't consider in its region of delivery, you are still able to order. You are forced to make a request through the Postmates app. Customers aren't as big a fan of this because it costs an additional fee on top of the cost of the purchase of a drink or meal. On top of that, there is a certain percent that needs to be paid in order to pay the service fee. So you can easily see how living in a region that Starbucks delivers is a prayer answered for us caffeine addicts!
---
Starbucks has made tremendous strides toward a newly innovative future. The newly introduced digital aged platform is just the start for this industry and I know I can speak for the rest of us coffee drinkers when I say I cant wait to see what comes next.
What this means for the future of eCommerce
As our CEO wrote years ago, eCommerce is not just going to disrupt the typical commodities space like furniture, shoes, clothes, and other simpler physical products but all services. This is just the start and everyone service company should be prepared for this massive shift to eCommerce. Its not going to happen all at once but it is going to happen faster and faster each year. Service companies should be prepared to find ways to automate and speed up the delivery of their services via eCommerce, mobile payment, or other electronic means.