Big Capabilities. Bigger Results.
BigCommerce
We are delivering the most powerful BigCommerce sites on the internet for B2B and DTC brands.
Platform Experts
With BigCommerce, you can create a robust, differentiated commerce experience without compromising security, stability, or scalability. We handle the strategy and implementation while you focus on empowering your brand and customers. The openness and power of the BigCommerce platform allow us to create a roadmap focused on scalability, function, and growth optimization with engineering features such as BOPIS, international, and B2B eCommerce.
B2B & DTC Capabilities
Unify two business models with ease. BigCommerce natively supports direct-to-consumer and business-to-business selling on one intuitive platform.
Fully Hosted SaaS
Forget about hosting fees and technical debt. BigCommerce's SaaS platform streamlines your website overhead and delivers elite functionality.
SEO Friendliness
BigCommerce's built-in SEO features include search-friendly themes, optimized URLs, automatic sitemaps and customizable URLs, titles, header tags and product metadata.
Security & Scalability
With best in class PCI compliance, security and 99.99% uptime, you can focus on what's important – growing your business.
International Functionality
Don't limit yourself to domestic expansion. With BigCommerce's Multi-Currency, Multi-Language, CDN Hosting, and fulfillment resourcing through ShipperHQ, you can reach customers in every corner of the world.
Powerful APIs
The core components of the SaaS platform are open to extension and connection to any other environment, so you can increase efficiencies and reduce bottlenecks. Easily integrate the BigCommerce platform with your mission-critical systems (ERP, PIM, CRM, etc.) through versatile APIs.
Headless Compatibility
The days of choosing between content and commerce are behind us. Now you can connect BigCommerce's powerful commerce engine with a CMS like WordPress or to headless frontend frameworks like VUE.js or React.js.
Advanced Search
Power your store with faceted search built with Elasticsearch, or integrate with best-in-breed solutions for complex search criteria to direct customers where they need to go instantly.
Multi Location Inventory
BigCommerce can delivery multi-location inventory for faster delivery per warehouse or things like buy online pick up in-store. This is a major feature for more enterprise stores that need the ability to house data in many different warehouses or stores.
2023 Excellence in Delivery Award
The news is out, and we invite you to read our latest blog where we highlight Trellis' achievement and share more about what it means for us to win the Excellence in Delivery Award at the 2022 BigCommerce Partner Awards!
Learn More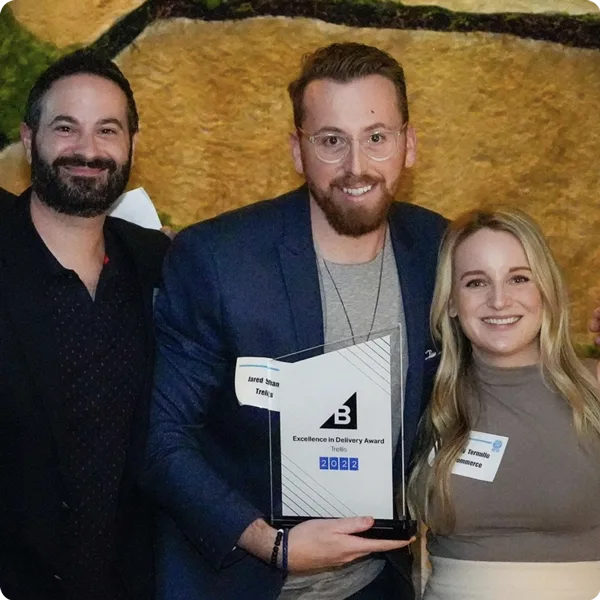 A BigCommerce Elite Partner
We are one of a select few BigCommerce Elite Partners that can handle both large and small sites. We are full service and can handle everything from strategy, creative, development, and marketing for small, mid, and large enterprises.

Everything Starts with a Good Plan
We leverage the power of BigCommerce drive big results, whether you are focused on B2B, DTC, or anywhere in between. As a leading BigCommerce Elite Partner, we build on existing BigCommerce functionality to turn your site into a conversion engine. Whether you are starting at $1M, $10M, $100M, or $1B in revenue, we'll accelerate you to the next level fast with strategic planning. We don't just jump into projects or tasks. We make sure we have a thorough understanding of your business needs and requirements via these various services to ensure best-in-class delivery.
Architecture & Planning
We are experts in software architecting and building the largest BigCommerce sites on the planet. This all starts with a good architectural plan.
Business Analysis
Whether we're building from the ground up or working with an existing site, we dive in to determine the most effective setup to reach your unique set of needs and goals.
Technology Recommendations
We have experience and partnerships with many third-party systems to allow your infrastructure to run smoothly on all fronts
Project Planning
Prioritizing engineering tasks with the potential to have the most impact and understanding development task dependencies helps shape a successful project.
Task Estimations
Better understand the efforts involved for each development feature with our expert engineers collaborating on estimations.
Architecture Reviews
We evaluate the integrations contributing to the functionality and workflows of your business.
Code Audits
With technology constantly changing and improving, it is difficult to always adhere to best practices (especially in an aging codebase),but we can come in with fresh eyes and see where potential code improvements can be made.
Performance Benchmarks
Whether you have a current site you want to optimize or are starting from scratch, we take the time to understand what performance metrics are possible with the integrations you need and identify where gains can be made.
We Are BigCommerce Experts
0
Dedicated BigCommerce Teams
+0
Billions in eCommerce Revenue Generated