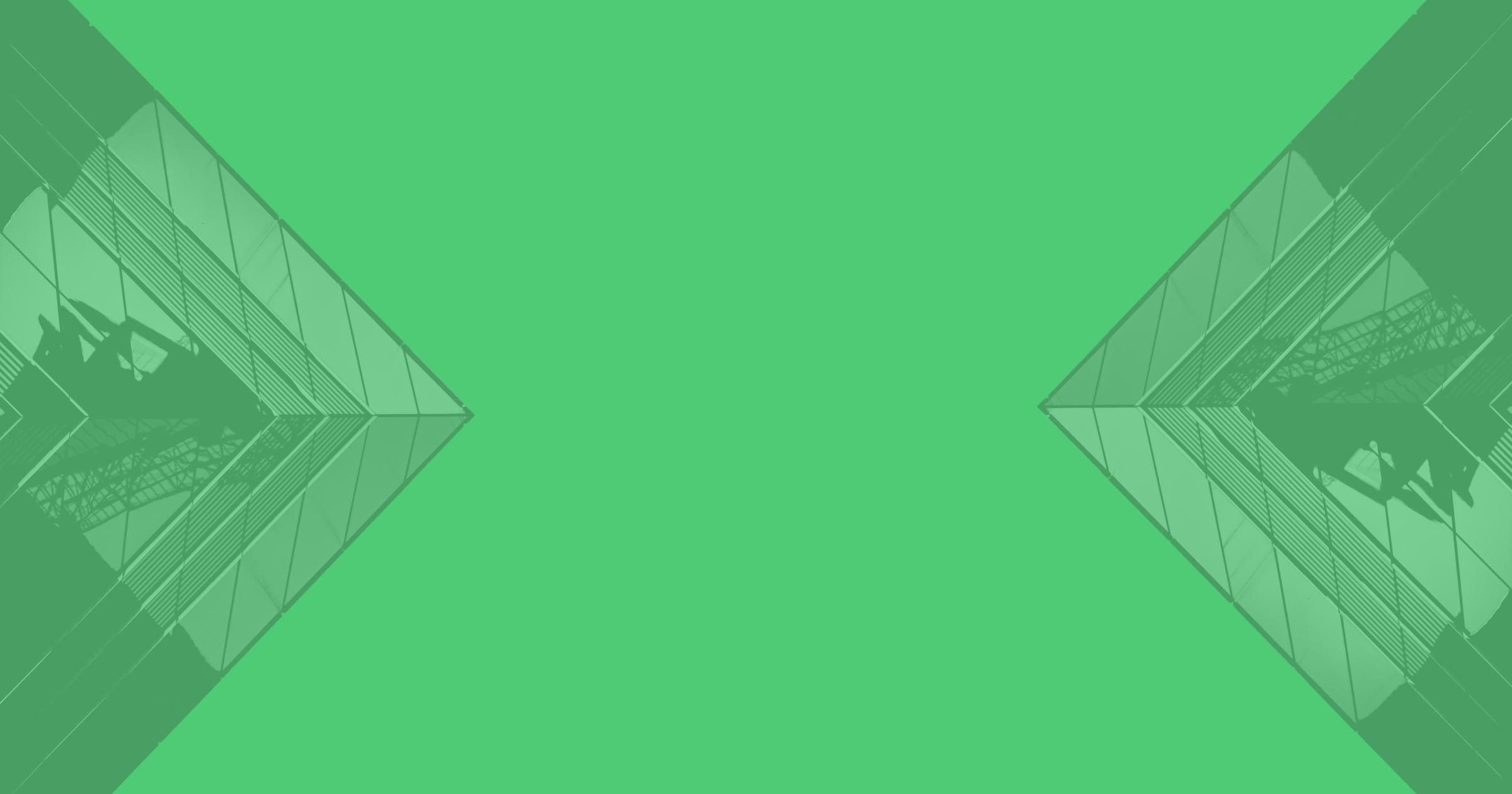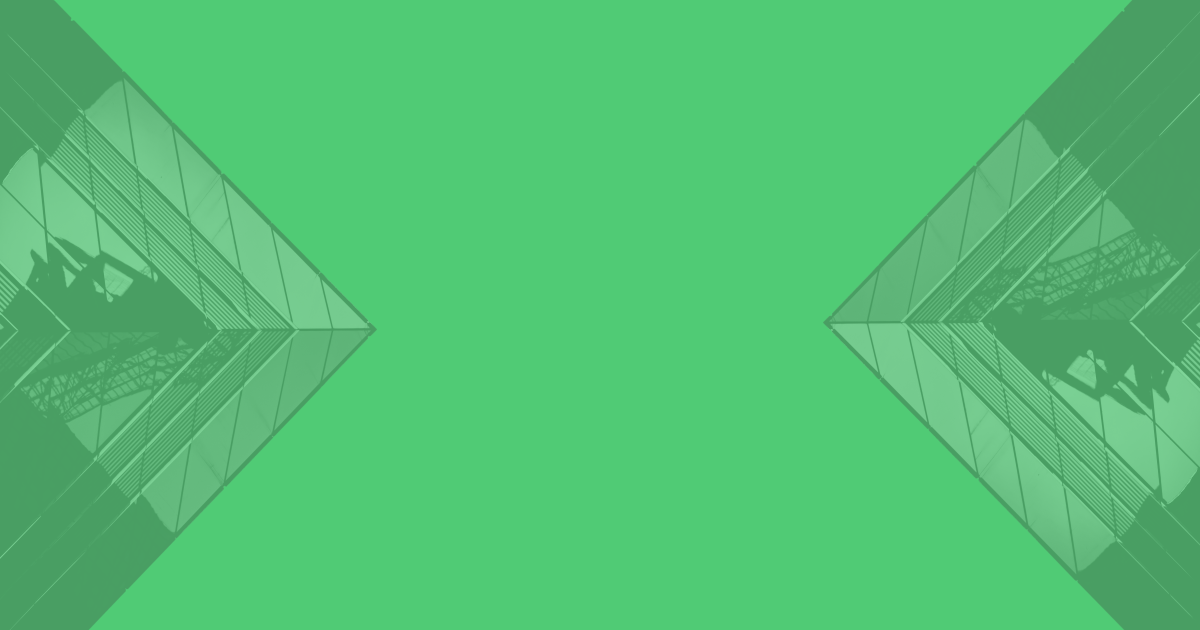 The 2020 Forester B2B eCommerce report is finally out after a year break. The last one in 2018 feels like an eon ago considering how much has changed in eCommerce.
The two companies leading the pack in the 2020 report are Adobe's Magento and Salesforce. Both represent leading eCommerce technologies that can serve both SMB and large enterprise businesses growing their B2B eCommerce presence.
What is significant about this report is that Adobe and Salesforce are leading the pack by quite a margin. The strong performers are there, but only one really has a strong market presence, SAP, which seems to be losing momentum in the market due to the increasing competition.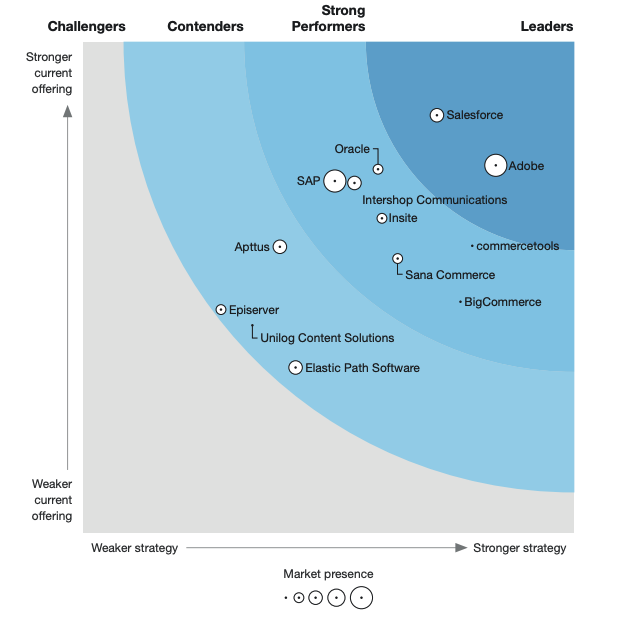 Methodology:
The Forrester Report evaluated these B2B companies according to 29 specific pieces of criteria that were grouped into three main categories:
Current Offering
Strategy
Market Presence
Each vendor that received high scores has a strong focus on B2B commerce, substantial B2B product revenue (20M+), and a broad global customer base.
Leaders:
Adobe's Magento: Magento has been leading the way in B2B for quite some time. Ironically, that was by accident in the early Magento days when they found themselves a leader in the top B2B categories. However, more recently, Magento has launched a suite of B2B features and has focused a lot of their new feature development around B2B. They have both a strong presence and market share making them a great choice for many B2B companies.
They recently launched an order approval and budgeting feature in their latest release of 2.4, so there is a lot more to come from Adobe in the B2B side of things as they continue to improve.
Salesforce: Salesforce bought Demandware which was historically a B2C platform for eCommerce. Since then they have added CloudCraze and continued to invest in the B2B side of eCommerce because of their massive B2B position in CRM. Salesforce has a strong position because of its massive customer base with all its other products so its easier to sell into existing customers. Look for Salesforce to continue to invest in the B2B side so that their platform becomes a true B2B platform and the legacy B2C days of Demandware become forgotten.
Strong Performers:
SAP: In 2018, Germany based SAP released its Commerce Cloud on Public Cloud (Azure) with enhanced DevOps tooling to simplify technical implementation. Overall, SAP's product vision and roadmap are on par
compared with others in this evaluation. SAP needs to continue to make strategic investments in its underlying platform architecture so that clients can easily stay on current versions and consume new innovation.
This means SAP is good for companies that want an all-in-one solution but not for companies building best-of-breed solutions. Customers told us they credit SAP with improved client relationships but would welcome deeper integration with other SAP Customer Experience components. SAP Commerce Cloud is the best fit for companies that have already bought into SAP S/4HANA and SAP Customer.

Insite: Insite has positioned itself as an all-in-one midmarket SaaS solution for manufacturers and distributors, however, their services need fine-tuning and some real innovation to make real strides. Their feature-set aims at driving business value but digitizing sales actions. Insite was acquired by Episerver in 2019 in order to fortify its B2B storyline.
Insite delivers above-par business intelligence but is below par in Artificial Intelligence/Machine Learning. Look for Insite/Episerver to focus on improving its AI/ML abilities as they scale the personalization of their software.
Oracle: Oracle has been a major player for years but has shifted its focus away from acquiring companies to bolster its e-commerce offerings. Recently, they have moved towards creating their own organize CX suite. Oracle CX is positioned as an enterprise, but midmarket users have only adopted the product line this far.
Oracle CX Commerce provides cloud services for Sales, Marketing, and CPQ that is comparable to other major vendors. Their new CX solution is integrated with their current ERP and financial systems. Customers admire the new solutions but believe technical improvements need to be made. Oracle Commerce Cloud is best for companies that are already using other solutions from Oracle to serve long-term customer relationships and for those companies that want a cloud-first provider with an all-in-one approach to commerce
Intershop: German-based Intershop offers an all-in-one commerce platform in a single-tenant-hosted SaaS on Microsoft Azure. They have struggled recently with modernizing their solutions for the cloud. They have been overrun with tasks, causing a backlog of complex efforts that must be managed simultaneously. Azure services like PowerBI, artificial-intelligence/machine-learning (AI/ML), adding DevOps or new eCommerce functionality have overrun the Intershop team. Customers are wary of the solution and bele3ive 1-2 years of work is needed.
Intershop is best for manufacturing companies that offer customer portals for aftermarket sales and service for
heavy industrial equipment.
Commerce Tools: Commerce Tools is new to the space, but they offer cloud-native eCommerce APIs for large enterprises as an alternative to a custom build. Commerce Tools is backed by cloud-native microservices in a multitenant architecture which gives a distinct advantage of being configurable and highly elastic at unprecedented cost-efficiency.
Their architecture is solid but lacks business intelligence and workflow which means the solution isn't right for a client that might need an all-in-one solution. Commerce Tools is best for digitally advanced companies with an API-first approach to digital and a strong, modern, agile developer culture.
Sana Commerce: Sana extended their strong SAP and Microsoft DYanmics ERPs to midmarket manufacturers. Sana directly handles the management of customers, prices, and orders in the ERP and the real-time integrations avoid additional cost during implementation and upgrades. Sana has avoided building out many of the less critical features that other solutions offer and instead invests in tight integration with specific ERP packages.
Customers believe that Sana provides strong value for the price, but improvements to the CMS will be necessary over time. Sana Commerce is best for midmarket manufacturing or wholesale companies that run SAP or Microsoft Dynamics ERPs.
BigCommerce: BigCommerce dove into the game by offering a business user interface that is simple to use and extend while also being flexible. They targeted brands focused on growth and differentiated customer experiences. BIGcommerce is a full SaaS solution with a curated app store full of solutions of varying technical capabilities.
BigCommerce delivers above-par A/B testing, platform integration, and customer support. However, they fall short when it comes to order and price management. BigCommerce is optimal for B2B businesses experimenting with new markets or sub-brands or simplifying their tech portfolio, moving away from legacy platforms.
Contenders:
Apptus: The goal of California-based Apptus is to be the leading provider of mission-critical omnichannel selling tools including quote-to-cash (QTC), contract lifecycle management, and other middle-office solution to transform its clients' sales motions and extend their CRM investments.
The Apttus suite is composed of components that clients can implement one at a time. Apttus thrives in configuration and pricing capabilities but is below par in personalization and site search. Apttus is the best fit for companies that already run SFDC, sell complex products on contract, and need a tightly integrated self-service selling channel to complement their omnichannel selling.
Unilog: Generally, Unilog's strategy focuses on helping distribution companies offer a self-service eCommerce channel to augment their existing sales motions. However, their business model differs for the fact that it does customizations in-house. This enables Unilog to be both affordable and grow its
the feature set with its customer base.
Unilog delivers above-par PIM capabilities but is below par in DAM and OMS. Unilog is a best fit for cost-conscious distributors transitioning from traditional offline to self-service eCommerce sales for the first time.

Elastic Path: If you follow us at Trellis, you know how bullish we are about headless commerce. In fact, trellis.co is now headless! We made the transition for good reason and Elastic Path was one of the earliest proponents of headless. Their unique REST API gives developers the flexibility to build out just about any commerce experience, without limiting options for complementary partner solutions.
Elastic Path is comparable to other vendors when it comes to price, account, and order management functionality but falls behind in promotions, product configuration, and modern, intuitive business user tooling and workflows. Customers want more improvements in B2B-specific functionality and partnerships, but they do enjoy the customizable framework and pricing. Elastic Path is best for B2B businesses with specialized business models that have a strong development culture to build differentiated commerce experiences.
Episerver: With its recent acquisition of Insite Commerce, Episerver's current strategy has been confirmed as heavily B2B focused. Before the acquisition, Episerver's foothold in the B2B eCommerce space was poor. Episerver delivers above-par CMS but is below par in order and price management. Customers enjoyed the ease of personalization and A/B testing on the platform, but the feature set is mainly conducive to B2C experiences.
Episerver is the best fit for brand-centric companies without a development culture selling SKUs across multiple web properties. With the acquisition of Insite, we should see their two strengths merging and eliminating some of their weaknesses.
Conclusion
There you have it. Those are the top players in B2B eCommerce. Here, at Trellis we understand the complex nature of B2B e-commerce but recognize its importance and value just as much. In order to shed more light on the B2B industry, we launched our own B2B podcast: The Hard Truth About B2B eCommerce.
This podcast is all about B2B eCommerce. B2B is a different breed of eCommerce and it needs a different breed of Podcast. We get into the nitty-gritty of integrations, adoption, platforms, data and so much more regarding what makes B2B difficult to make successful for eCommerce!
We will be posting new episodes with special guests weekly. You can listen on our dedicated podcast website and download the podcast on all major channels: Apple Podcasts, Spotify, Google Podcasts, Stitcher, TuneIn, Overcast, Pocket Cast, Castro, Castbox, Podchaser, Podcast Addict, Deezer, Listen Notes, and RSS Feed.