OUR PROCESS
An Adaptive Approach
Trellis is a full-service digital agency specializing in eCommerce. We focus on data-driven strategies to drive traffic, engagement, and conversion for industry-leading B2C and B2B brands.
A Circular Process
We believe our process should always be implemented even after you have completed your project. Every opportunity starts with learning and evaluating what is going on before there is a clear strategy and plan we can execute. Our execution services for design, development, marketing, and other digital services are best of breed to ensure we deliver the best outcomes possible.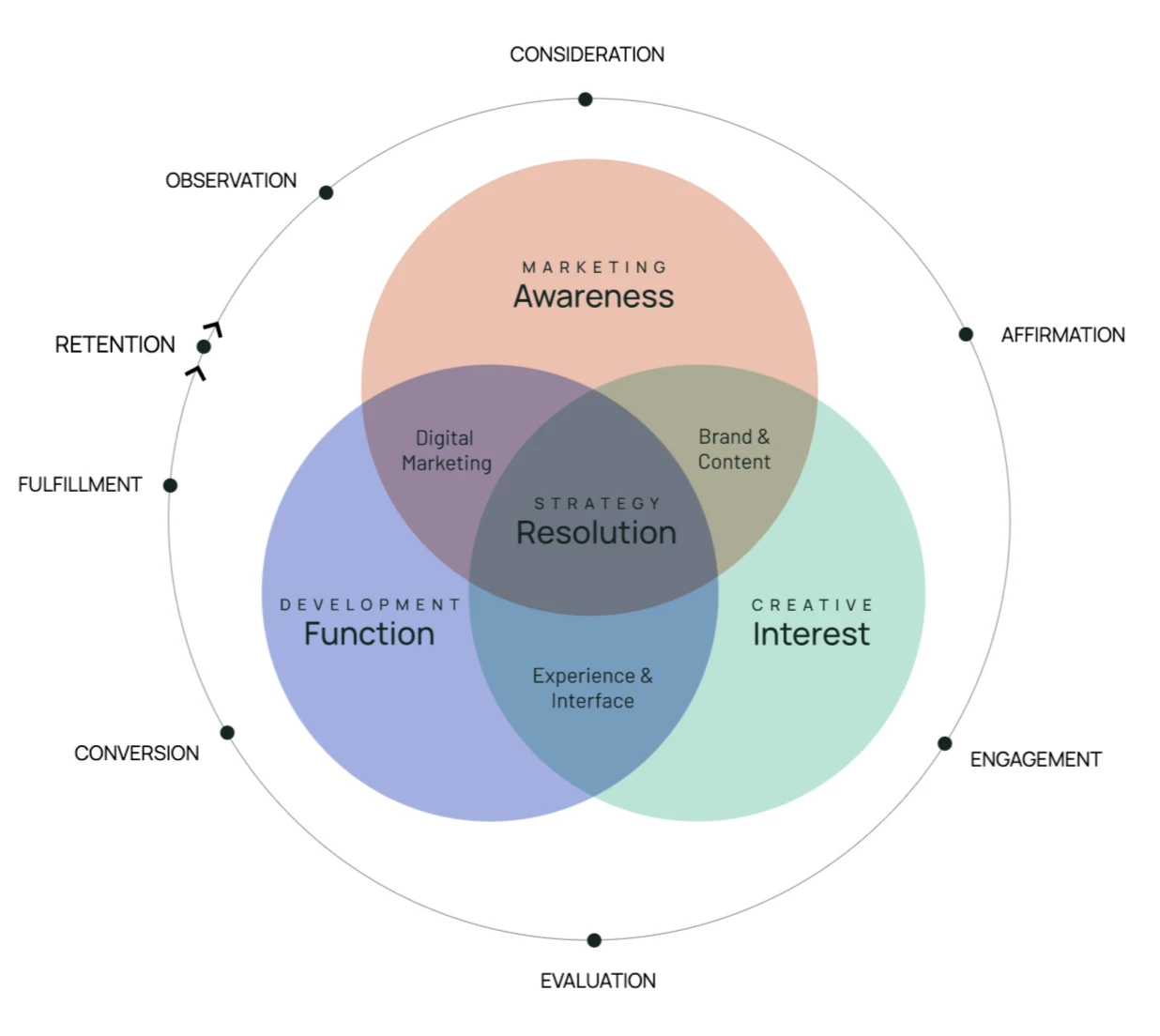 01
Learn & Evaluate
Many agencies and freelancers will jump into a project without truly learning the business they are working with. Our first objective is to learn more about your business and specific situation to better understand how we can fit in as a valuable partner.
This is typically part of our sales process and we often don't contractually engage with customers before we have a better understanding of their business and challenges.
The learning process really never stops and we continue to learn more about your business as we partner with you on an ongoing basis.
02
Strategy & Analysis
Once we understand your business, it's time to create a strategy. Sometimes you may have a strategy you want to execute, and really need help fine-tuning an execution strategy.
Other times you may need a complete roadmap and execution strategy to improve traffic, conversions, brand value, and more from your digital properties.
Regardless of what you need, we can come up with a strategy that can be executed within the constraints of your business and resources.
03
Execution
Once a strategy is defined and a roadmap is developed it's time for implementing the statement of work. Trellis has a robust execution process for implementing new projects and eCommerce websites. Our process includes a hands-on team approach from our designers, project managers, technical architects, developers, and QA team.
We will design the site to confirm the look and feel and then build out the frontend of the site. While the design and frontend are being worked on we will be handling data transfer and all applicable backend development. Lastly, once development is complete we will begin QA for all device sizes, browsers, and functionality and prepare for launch!
04
Refine & Enhance
Once we have delivered a new website or project that gives you a better infrastructure for success, its time to start refining your digital strategy.
We can work with you on a continual basis to refine your initiatives based on the data and results of past successes or shortcomings.
No website or digital project is ever finished and always requires refinement in order to stay competitive and valuable to your business. Thus, we work with our clients on an ongoing to refine everything they are doing on the digital side of their business.
Execution Services
From back-end integrations to UI/UX design. We have you covered. We are a full service eCommerce agency that can provide a full suite of services to grow your business.
Technologies We Leverage
Trellis leverages leading eCommerce platforms such as Magento, BigCommerce, Shopify+, and the leading CMS platform, WordPress, combined with the most advanced responsive framework & foundation, to provide our clients best in class technology. As experts of these leading platforms, we propel brands falling behind competitors to the forefront of their industry online.
View eCommerce Technologies