B2B eCommerce
Grab your share
B2B eCommerce is more than double the size of the B2C eCommerce Market.
We Understand B2B eCommerce
Manufacturers
Trellis can help manufacturers optimize online operations to sell to distributors as well as sell directly to customers.
Distributers
It is more important than ever for distributors to streamline operations through eCommerce online ordering.
Wholesalers
Trellis can deliver an exceptional online experience allowing your customers to get the best prices possible.
Two Way ERP Integration
ERP systems are often the backbone of B2B companies. Trellis can architect and develop an API-driven, holistic solution that integrates your ERP with your eCommerce platform to improve your back office processes. Additional systems that Trellis can work with often need to be connected to the ERP and eCommerce platform to help drive your business, including your PIM, WMS, online marketplaces, mobile apps, and more.
Start Integration Your ERP

Platforms for Every Need
We have worked with many of the best B2B eCommerce options on the market, which allows Trellis to help companies choose the best technology for their future. Through our comprehensive Discovery process, Trellis will work with your teams to find a solution that meets your business needs today and in the future.
Magento
Magento is one of the rare platforms that is a best in breed platform for B2B and B2C so you can use it for both uses cases or whichever one you want to focus on. Trellis can transform Magento into the B2B eCommerce solution that brings your business to the next level.
BigCommerce
In addition to being one of the easiest to use B2B platforms on the market, BigCommerce is also the leading B2B eCommerce SaaS platform. As a BigCommerce Elite Agency Partner, Trellis can work with your teams to customize and deliver a phenomenal experience for your customers and your employees.
Shopify
In addition to being one of the easiest to use B2C platforms on the market, Shopify is also adding more and more B2B functionality such as companies and price lists.. As the top Shopify Plus New England Partner, Trellis can deliver a cutting edge experience across all devices and customer types.
NetSuite
NetSuite is a leading ERP platform that also has an effective eCommerce platform SuiteCommerce Advanced built on. This way you can have your ERP and eCommerce platform all unified together.
Infor
Infor is a leading Manufacturing, Distribution, Food & Beverage, and overall B2B solution. We have developed some of the leading integrations in the Infor space for eCommerce used by some of the largest players in the space.
Salesforce
We can provide Salesforce services at a reasonable price. We are still privately owned and not operated by a major parent agency.
Holistic Solutioning
Having a product information management system to standardize your content across all different product types is essential for improving your sales reach. Trellis can help you think through the challenges of product data, shipping, integrations, payments, corporate accounts, request a quote, and much more.
Product Data Strategy
PIM Solutions
ERP Integrations
Payments
Shipping
Personalized Company Accounts
Request a Quote
Purchase Orders
Credit Limits
Freight Shipping
Multi-Warehouse
Sales Commission
Infor Magento 2 Integration
Trellis and Expertek have worked together to build the leading Magento 2 Infor integration, that allows B2B companies to seamlessly sync customers, orders, products, shipments, and price data between Magento 2 and Infor via real time API's. We have followed Magento and Infor best practices to ensure we have built the leading connector solution on the market.
View More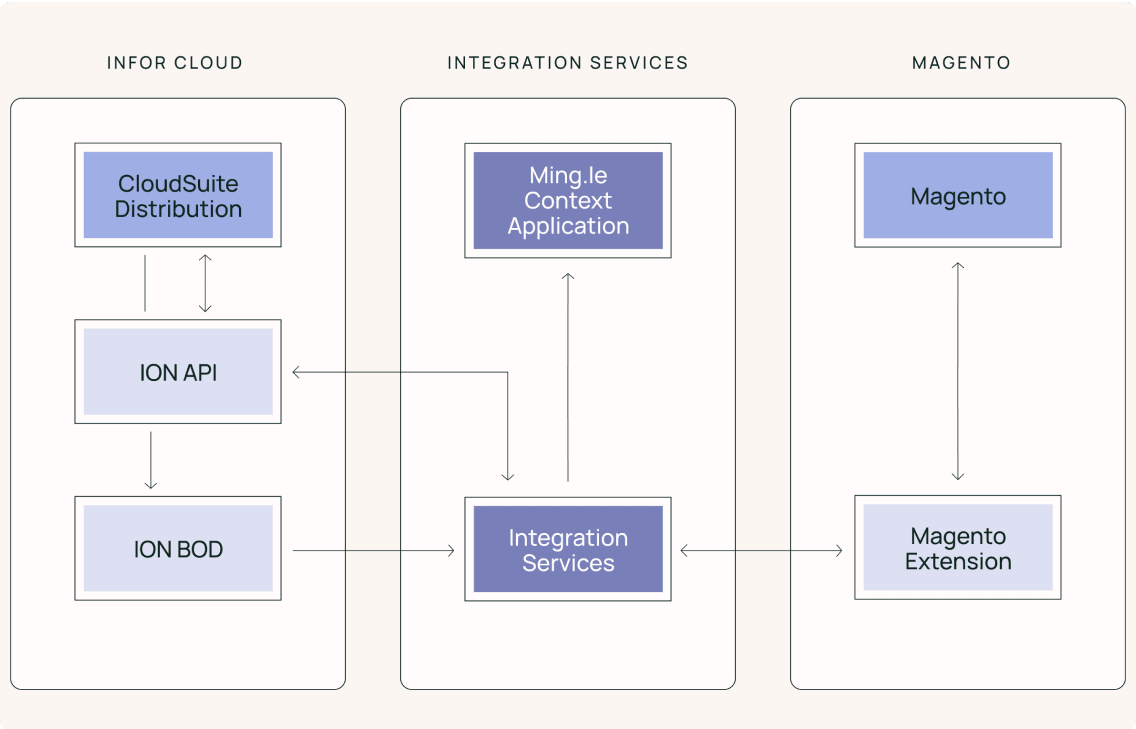 Salsify Magento 2 Integration By Trellis
Our Connector will seamlessly integrate your Salsify data with Magento 2 so that you no longer have to worry about manual product feeds or other manual processes. Once installed and configured, you can easily update all product data in Magento via our connector with the click of a button. We have perfected this module over years of working with our partners at Magento and Salsify.
View More
B2B Specialists
It's a new era for manufacturers and distributors. Selling online isn't a choice anymore. Enable a better B2B eCommerce experience by utilizing BigCommerce's robust B2B feature set specifically curated for the modern B2B customer.
Customer Groups
Segment your customers for pricing, product access, and promotions without having to maintain a second site.
Custom Pricing
Use price lists to give B2B customers a B2C-level experience with custom pricing at the SKU level for customer groups.
Bulk Pricing
Foster more sales by taking control of bulk pricing with customization down to the SKU level for individual customers or customer groups.
Punch Out
PunchOut catalogs allow a buyer to shop a vendor's website from within their own purchasing procurement system.
Sales Rep Masquerade
Log in on behalf of a company, access shopping lists, add products to the cart and complete placement of the order.
Advanced Search
Power your store with faceted search built with Elasticsearch, or integrate with best-in-breed solutions for complex search criteria to direct customers where they need to go instantly.
Purchase Orders
Repeat and trusted customers can be approved for purchase order payments meaning larger orders can be placed now and paid for later.
Integrations
Easily integrate your eCommerce platform with your mission-critical systems, such as your ERP, PIM, and CRM through versatile APIs.